Frequently Asked Questions
Any question ? Any doubt ? Please read through these frequently asked question to find your answers.
otherwise send us an email and we'll come back to you as soon as possible.
If you have a coupon code that entitles you to a discount on purchases on ExperienceBoxSpain.com, add your purchases to your shopping cart, go to your shopping cart and follow the checkout process step by step :
Once on the "Coupon discount" step, simply write your coupon code (NOT case sensitive) and click on "Apply to Order", than carry on with the normal process.
Visual process here :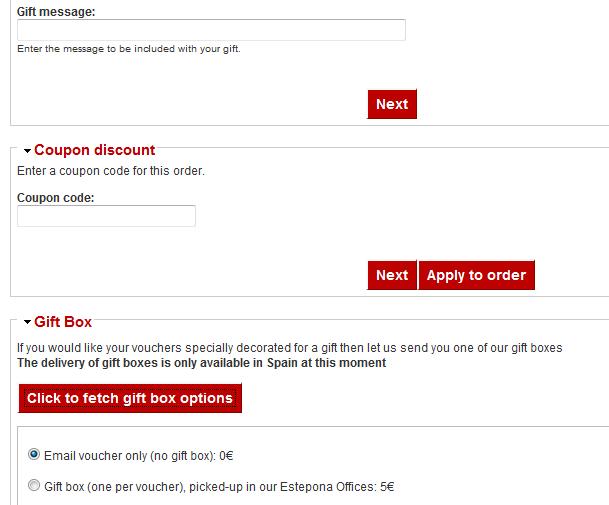 Once you have decided what activity you want (for you, for your friend, for your family, for your staff, etc), just check out from the shopping cart. You will be redirected onto an https server (secure server from Caixa Catalunya, one of the leading Spanish Bank). It's only once you are on this secure server that you will be asked to input your credit card details, and start the whole process in full security (several controls and checks are made by the bank prior to accepting the debit).
The complete process is the following :
1. Select the experience you would want to add to your shopping cart, and clink on the "BUY NOW" button.
The experience is then ready for you to buy, and you can carry on browsing the website and look for other original gift ideas.
2. Once you are finished shopping, click on the shopping bag top right of the website :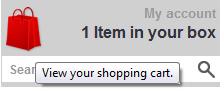 3. Review the products you have in your bag, and if all is correct click the "CHECK OUT" button.
4. Fill-in the form information :
Your email adress (where to receive the voucher, etc);
Your account details (choose a username and a password if you are a new client);
Delivery information, i.e. where the gift box, if any, will be delivered. This is an important field;
Voucher recipient information, i.e. the information of the person who you will offer the gift to (it can be the same information as above, but it is not always the case);
Write a personal message to the person who you are offering the gift to;
Choose the options for the voucher (voucher only or gift box, delivery destination, etc). Click on the "CLICK TO FETCH GIFT BOX OPTIONS" button to make them appear, and select the one you want.
Tick to agree with our terms and conditions
Tick whether you want to receive our newsletters
Add any information you'd like to tell us
Click on the "REVIEW ORDER" button
5. Review your order and proceed to payment by clicking on the "PROCEED TO ORDER" button.
6. You are now on a SECURE (httpS://...) website dedicated to online payments. Fill in your credit card details and click Next.
7. The secure system will send you an SMS with a validation code to be introduced.
8. The system will confirm the purchase.
9. check your email, ALSO THE SPAM FOLDER, to get your confirmation email and access your voucher. You can also log in with your username and password to check status of your purchase and reprint the voucher.
10. In case of any doubt, give us a call.
We propose several ways to deliver the experience voucher / gift box :
Online voucher : in any case, when buying online, the purchaser will be sent an e-voucher on the email adress specified when checking out. This paper voucher can be used to redeem your voucher, and will need to be handed over to the end supplier on the day of the experience.
Voucher in a Great Gift Box : If you are willing to "physically" offer your present to the person you have bought it for, you have an option to receive, by mail, a nice gift box (A6 size) that includes a nice voucher (credit card type), information on the experience, etc.
Delivery of gift boxes *: it can for the moment only happen in Spain, based on the following terms :
Free pick up at our office during office hours;
Malaga Province** : Courier delivery, delivered at your door (home or office)

within 48 hours

(delivery time

between 9:00 and 17:00

and will need someone available to sign-off delivery);
Mainland Spain : Courier delivery, delivered at your door (delivery time between 9:00 and 17:00 and will need someone available to sign-off delivery).
International : for deliveries outside Spain, please contact us to organize the more suitable delivery solution for you.
* : These details are for information only and not binding. Courrier service is outsourced and Experience Box Spain can not be responsible for delays in delivery outside it's control.

** : By Malaga province, we mean anywhere between Malaga City and Duquesa Port. Should you live far away inland where delivery could be difficult, please contact us to organize the more suitable way to deliver the gift box.
Congratulations, and welcome in the Experience Box Community.
You have received a voucher to be redeemed against a wonderful experience in Andalucia. But how do you do this ?
It's very SIMPLE, follow these steps :
1. Contact us with your voucher details
OR email us on info@experienceboxspain.com with the information of your voucher, we will call you back as soon as possible.
OR call us on (+34) 902 276 967 during standard work hours.
2. Let us organize the experience for you and call you back to confirm all details on the phone and via email.

3. Go to the experience provider and simply hand-over the voucher to him/her. Enjoy, have fun, relax
IMPORTANT : never present yourself at the supplier's premises without having realized a booking via us. Due to the exclusivity of the experiences we propose, Experience Box team is the only one able to schedule your activity for you.
Experience Box Spain SL has set-up exclusive packages for you with the BEST COMPANIES in Souhern Spain, like for example :
Villa Padierna Ritz Carlton
Crowne Plaza Hotels
kempinski

Fly Blue charters
Ascari

Fly In Spain
Blue Sky Super Cars
Exploramas
SphereMania
Novelli's

Tikitano
Toni Cochrane
Guadalpin resorts
Really Discover
Segway Malaga

etc
By carefully selecting the providers of experiences, we make sure you will be fully satisfied of your purchase. We do not look for quantity, we look for QUALITY.
Should you not find your dream experience on our website, no panic. We are the leading provider of experience gifts, corporate events and holiday activities in Southern Spain, meaning that we know Andalucia better than anyone. Just call us or send us an email with the activity (indoor or outdoor) that you would like to do, and we'll organize it for you.
There is no hidden costs to this product and what it includes is listed on the product description. The only extra option you can add, if you wish to, is the gift box and its delivery in Spain.
As much as possible, we will organize these events for you at exactly the same price you would get if you went to the experience supplier directly. We will not add an extra margin over the standard supplier's price, like this is often done in this online gifts market. We always tend to charge the public price, or even less when we can, and all we add-in are our own collateral costs (e.g. credit card charges, bank transfer costs, etc). Buying with us is then a great and cheap way for you to gather information on hundreds of activities and book them online with the confidence of our price guarantee.
This is our main goal, but we can unfortunately not commit to this at 100%. Indeed, should the supplier have special offers, group discounts or unforeseen price decreases, we might need some time to update our prices.
On the other hands, any price increase from the supplier would NOT affect our price, giving you a guarantee that you can enjoy your experience for the price listed on our website.
Just browse the 10 categories, and select the activity you're interested in. Read all the information related to the expoerience you want to live or to offer and, if you're ready to go, click the "buy now" button.
This experience is now added to your shopping cart. You can either continue browsing for experiences, or check out, pay and enjoy. The check out process will request some personal information like your contact details, some options you might be interested in (voucher only or gift box, newsletter subscription, etc). At the end of this process, you will be redirected onto the secure payment server of Caixa Catalunya to provide them with your credit card details. Once done, you will receive your invoic per email, a user name and password and access to your voucher.
Once you want to concretely book your experience, you or the person who has been offered the voucher will call our team at Experience Box Spain SL, and provide us with the voucher reference number, your name and the date you would like to use the voucher. We will organize bookings for you and call you back to confirm the reservation.
Once on site, hand over your voucher at the reception, and enjoy.
As simple as that.